Thermia Mega - Soil-Water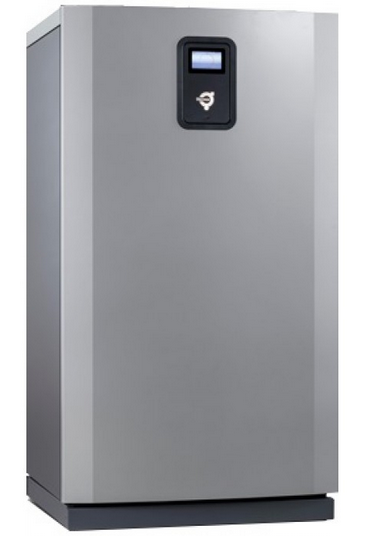 Geothermal heat pump for advanced applications with a capacity of up to 1400 kW
Reduce your energy consumption by up to 80%
Inverter technology precisely adjusts to real-time demand
Cascade function up to 16 units
Hot gas technology for efficient hot water production
One solution for heating, domestic hot water and cooling
Online – control your heat pump from anywhere
Ready for building management systems (BMS) via Modbus

Superior performance with advance features
The Thermia Mega inverter-controlled commercial ground-source heat pump is the ideal choice for all types of commercial buildings with advanced heating and cooling systems and very high demands on both energy-efficiency and functionality. This makes it the perfect solution for large commercial and public buildings needing an advanced control system and special applications. With an impressive seasonal coefficient of performance (SCOP) of 5.3 (Mega XL at B0/W35, according to EN14825, cold climate) Thermia Mega enables you to reduce your energy consumption by up to 80%.

Inverter technology
By continuously adjusting the heat pump's output to current demand, inverter technology enables the heat pump to supply 100% of your energy requirements. This in turn means that the user does not have to pay for any auxiliary heating. Inverters can combine large heating demand in winter and smaller hot water demand during summer, without the need for large hot water tanks. In addition, inverter technology is more friendly for power grid soft start and lower starting current.

Heating capacity and flexibility
Thermia Mega is available in four output sizes:  10-33 kW, 11-44 kW, 14-59 kW and 21-88 kW. It is possible to cascade-connect up to sixteen machines to achieve up to 1400 kW. Cascade-connected pumps start one after the other depending on energy need, thus ensuring minimum energy consumption regardless of the output. With a unique feature called Energy Source Control, heating capacity is adapted to the currently available energy source (boreholes or exhaust air). Installing a Thermia Mega pays off in a short time thanks to large energy savings for both heating and cooling. With a wide range of accessories, Mega can also heat a pool and work in combination with solar panels or additional heat sources.

Passive and active cooling – year-round comfort
The large areas of glass in many modern buildings are great during the darker months of the year but often lead to overheating in summer. Passive cooling ensures a perfect indoor climate all year round. If necessary, this can be supported with active cooling using the heat pump's compressor. Both passive and active cooling are far more economical than traditional air-conditioning systems. Mega can provide efficient cooling for your property during the summer.

Remarkable efficiency with simultaneous heating and cooling
Simultaneous heating and cooling enables you to reduce operating costs even more. To achieve this, multiple heat pumps are connected in parallel between hot and cold buffer tanks. The hot tanks connect to the heating zones and the cold tanks to the cooling zones. Mega then simply exchanges hot for cold, depending on the needs of the building. For example, as a hotel conference room is cooled down, the excess heat removed is re-used to produce hot water for the swimming pool or SPA.

Exceptional hot water production with hot gas technology
Thermia has developed a unique patent-pending method of producing domestic hot water. At the same time as water is being heated for distribution through the building's heating system, hot water is produced at very high temperature through an extra de-superheater. This means that during the part of the year when the building is heated, you get lots of hot water at a very low cost.

New intelligent control system
The controller coordinates and controls the heating system. Thermia heat pumps work with complete precision to give your home the best possible indoor climate at the lowest possible cost. Our controller is very easy to use.
New features:
Menu and algorithms developed by Thermia
New color touchscreen
User friendly, intuitive menu with icons and info-graphics
Full overview of temperatures from refrigerant circuit
Compressor "envelope" visualization
Heat curve with 7-point adjustment
Plug-and-play software update via USB slot
Ready for building management systems (BMS) via Modbus

Thermia Online
Mega can be equipped with Thermia Online, a function that allows remote control and monitoring using a smartphone or computer. Our online system provides installers with comprehensive diagnostics data and also enables them to respond promptly to notifications or access a live feed on system performance. Online control and monitoring optimizes energy efficiency for property owners with buildings in different locations.
The Thermia Online app is available for both Android and iPhone.

Integration – ready for BMS
The advanced control system of this commercial heat pump constantly monitors all functions, providing you with a reassuring overview. Mega can communicate with other control systems (building management systems) via Modbus. It can also be controlled and monitored via a management system that gathers information on alarms, ventilation and other systems in the same building.

The essence of Scandinavian design and durability
Thermia heat pumps are designed, tested and manufactured in one of the harshest climates in Europe – Sweden. All our products are designed and built from top-quality European components with authorized Thermia consultancy for system design. We are proud to count world-leading industry specialist Danfoss among our technology partners.
Thermia Mega is built on over 40 years of experience in developing and supplying heat pumps.

Touchscreen controller
The new controller in the Mega heat pump boasts a color touchscreen display and user-friendly icons that are easy to understand.